Organizer: Jitka Slánská - Kennel Czech Imp
<![if !vml]>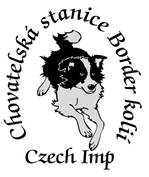 <![endif]>
organizing
"Large special"
 For Large and MiniLarge ONLY
Equal height for both categories: 55cm
date: 21.8.2021
Judge: Michael Schilling
 Setup of trial: 3x qualifying Jumping + Agility final
Venue: Tachyon Sport Aréna
GPS: 49.858432, 14.694686
Brilliant new resort for dog sports.
Hall with air conditioning, spectators stands and all necessary background.
For those incoming on Friday, accommodations available.
Prize: First 3 places form each qualifying jumping will be awarded.
In Agility final will be given prize money:  
1.place - 4.000,- Kč (150 EUR)
2.place - 2.000,- Kč (75 EUR)
3.place - 1.000,- Kč (37 EUR)
Amount of prize money is determined by number of competitors. In case of 70 competitors, the prize money will be as it is written above. With every next accepted competitor the prize money increases by 200 Kč.
In case of 120 competitors, the prize money for Agility final will be 17.000,- Kč (630 EUR)
First 8 teams from each qualifying jumping will qualify for Agility final.
If the competitor is already qualifyed from previous qualifying jumping, his next result will not count and teams from 9., 10., etc. place move up.
Competition program:
7.10 – 7.50 presence
8:00 -  course walk 1. Qualifying Jumping
Entry form and Entry fee:
25 Euros
Competitor will be accepted after payment of entry fee.
The date of bank transfer is critical for acceptance.
Payments recieved after capacity is full (max 130 teams), will be transfered back at cost who send it.
Entries possible only at KAČR websites.
The competition is not open for veteran category.
Account number: 2338738036/5500, Variable symbol: 21082021
Message to recipient = Your surname + name of dog
Contact: Jitka Slánská -776724661   jitkaslanska@seznam.cz
organizer: Jitka Slánská
Regulations of participation: Established by norms of Czech Rebublic and KAČR.
Veterinary regulations: The dogs taking part in the competition must be at least 18 months old, have tattoo or chip and valid anti rabies vaccination. Dogs after appearance-changing procedure (in meaning of animal protection law) are not allowed to enter the competition.
Protest: The protest can be realised after deposit 500 Kč. In case of wrongful protest, the deposit forfeits in favour of organiser.